- Our First Webinar -
Microsoft Excel Webinar was held on May 9th, 2014
See the video
While using Microsoft Excel have you ever thought to yourself there must be a faster way what I am trying to do. Should this really take hours, or worse yet, days to complete? The answer is no, it should not. What you need is to know the most used and most effective Microsoft Excel POWER Tips and Shortcuts. Then you will save time, measured in hours and days.



The Microsoft Excel POWER Tips & Shortcuts Webinar, taught by Microsoft Excel expert Dennis Taylor — and offered by VBAExpress.com — you can learn the tricks, tools, and secrets the experts employ when they use Excel. You too will then fly through Excel with keyboard shortcuts, menu selection, etc.



This isn't one of those canned webinars offered by the big-box training companies. At VBAExpress.Com we find the best talent out there; experts and practitioners with years of experience who leverage their wisdom, intuition, and yes, wit to educate and help others.



Dennis Taylor

has over 25 years Microsoft Excel training experience. He's an author on using Microsoft Excel and has even developed videos.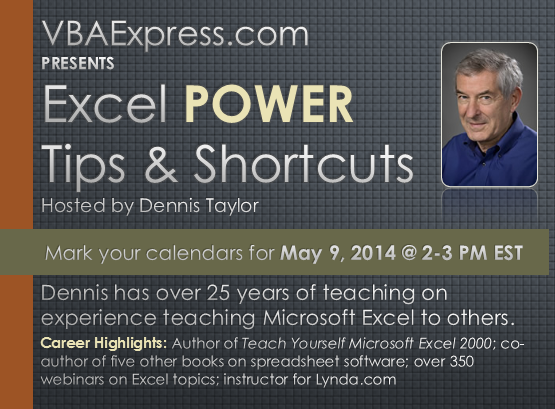 Course Description:
This unique course is filled with dozens of tips (not found in standard courseware) that let you achieve immediate productivity gains. Most Excel users are not utilizing the full power of this software - you need these shortcuts and techniques to make you a proficient and powerful Excel user. Learn to display formulas instantly, audit formulas with keystroke shortcuts, copy/move/paste with simple dragging, build date lists effortlessly, and adjust values without formulas. You'll also get a list of over 100 Excel keystroke shortcuts.





How do I signup?

Follow the link below to register for the webinar. Hurry—space is limited.

See the video